Automobile Testing Equipment
automax Products
Automax supplies testing machine targeting various test specimen such as driving system parts for automobile, engine, vehicle and tire. We propose the most suitable testing system based on technology and experience from lots of supply record. Please refer to the catalog in detail.
A.I. Tec Products
A.I. Tec has enough track records of low- and high-temperature tester, lead component inserter, refrigeration units and coating machine for vehicle-mounted board. One engineer takes charge of design, manufacture and adjustment consistently to quickly correspond to the customer's demands and troubles.
Shinto Products
Shinto supplies various inspection machine and automating facility to the customers at the automobile field. The advanced technical capabilities give customers the suitable proposal.
O-TEC (Ohmura Giken) Products
Environment Testing Machine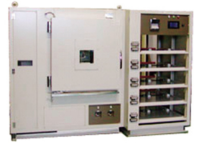 O-TEC deal in environment testing machine testing reliability of test body under constant temperature and humidity environment. They have track records of various machines based on "technology of high-pressure gas" and "temperature control technology" accumulated for years, and also "washing" and "transportation" technology developed in the semiconductor field.
Tokyo Meter Products
Tokyo Meter has a lot of supply track records of testing machine for rotator, fluid and heat and measuring equipment to the automobile field and university laboratories. They will develop and supply not only fluid testing and measuring control system but also dynamometer system and other various testing machine meeting customer's demands.